Newsletter | June 2018
Summer Session – June 5 to August 17
Summer hours include Mondays from 9 – 5
Basketball Camp, Mon through Fri 9 – 1
There can be no loitering or congregating inside the building during camp hours.
See http://uppernoerecreationcenter.com/wp/ for program schedule details

Auditorium Free Play:
Mon 10 - 4
Tue 10 - 12, 2:30 - 5:30
Wed 3 - 4
Thu 10 - 5
Fri 1 - 5:30
Sat 12 - 4:30*
Open Gym:
Mon 3 - 4
Tue 4 - 8:30
Wed 2 - 5:30
Thu 4 - 8:30
Fri 2 - 5:30
Sat 9 - 4:30


Summer Solstice Kickoff Party – June 20
On Wednesday, June 20 from 7 to 8:30 p.m. in the auditorium, the focus will be on food, friends and fun. Come out and rejoice for summer with a dessert and appetizer potluck. Bring something to share. Beverages and table settings provided. Celebrate our recent accomplishments and offer your wish list for the coming year. Preview a special presentation of the touching new documentary Joby's Run – A migrant from Australia and his trusty bulldog feel isolated in their new home city of San Francisco until finding an unlikely solace in the form of a small urban dog park. Want to help? Email info@noevalleyreccenter.com.


Dog Run Improvements Prompt Even More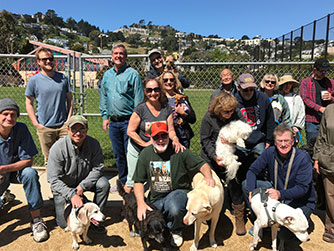 On May 4, SF Rec & Park (SFRP) installed a new decomposed granite surface and upgraded the irrigation system in Joby's Run dog park.On May 12, Friends of Upper Noe Dog Owners Group (FUNDOG) celebrated the improvement and congratulated each other on the success of their persistent lobbying for this work. SFRP General Manager Phil Ginsburg came with his 13-year-old basset-beagle mix Barney and Rec & Park Area 5 Manager Carol Sionkowski brought her little chiweenie Nugget. District 8 Supervisor Jeff Sheehy joined the party, too. These three were present to witness the greatest benefits of their jobs, seeing the satisfied, happy faces of the neighbors they help.

After learning about the decaying condition of the dog run, Jeff and Phil responded quickly to address the community's concerns and support the project. Carol, who was already engaged in a solution, actually got out a shovel and put her back into the process. She and her amazing gardening crew spent long hours expertly grading and installing the surface.

Ginsburg thanked dog owners who have made a community here, praising responsible use of official off-leash areas. He called Upper Noe a great use of shared space for everyone. "There is probably no more collaborative, collegial, happy community around any single facility in our park system than this one. If you can't come here and smile and see our dog owners and kids playing ball and people using the courts and the Rec Center then you shouldn't be living in the city because this is as beautiful and joyous and happy as it gets."

As dog owners retired to shady seats under colorful umbrellas and dogs enjoyed a table full of tasty treats –thanks VIP Scrub Club– Ginsburg reviewed our wish list of repairs, including the blacktop basketball court and the tennis court. FNVRC has just learned that both of these items are included in the mayor's 2019/2020 budget and put on high priority. With these upgrades, the park will be back in tip-top shape.




Ten Together Block Party – September 15
This fall marks ten years since Rec & Park transformed Upper Noe Recreation Center into an attractive community center. And it looks just about as good today as it did then. To mark this accomplishment of stewardship and the wonderful Upper Noe community, local organizations have joined together to host a neighborhood-wide block party at the park. FNVRC, Upper Noe CRC, Upper Noe Neighbors, and FUNDOG invite everyone to join in the fun on Saturday, September 15 from noon to 4. Do you have some great ideas? Want to help? Would you like a table for your organization? Email info@noevalleyreccenter.com.


Rec & Park Survey – Win a $50 Gift Card!
Playgrounds? Swimming pools? Soccer fields? Trails? Picnic tables? We believe that neighborhood access to recreation and open space can have a transformative impact. We're eager to improve the reach of our services across San Francisco! We want your perspective and ideas on how we can improve our parks. Take our brief survey here and enter to win a $50 gift card! http://sfrecpark.org/survey/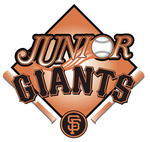 Junior Giants Registration is Open. Don't Miss this Pitch!
Baseball season is upon us! For those looking to play this summer, be sure to sign up for the FREE Junior Giants Program, which is now open! The program offers our city's youth a chance to discover the basics of America's pastime while learning the value of confidence, integrity, leadership and teamwork. Open to boys and girls ages 5-13. For more information and to register, go to http://www.sfrg-sanfranrecnpark.sportssignup.com/site/


Ingleside Community meeting
Captain Hart will focus on emergency readiness, including NERT and SAFE.
Tuesday, June 19, 7 – 9 p.m.
Ingleside Police Station Community Room
1 Sgt. John V. Young Lane in Balboa Park
415 970-2024



---
Thanks for your interest and support of your park!
Please email info@noevalleyreccenter.com with any questions or suggestions. Share this newsletter to your friends and neighbors. Please help us to promote Upper Noe Recreation Center as your neighborhood center and to connect with all members of the community.

Friends of the Noe Valley Recreation Center provides equipment and support for our wonderful neighborhood park, its patrons and staff 365 days a year. Please consider a tax-deductible contribution to help keep our park clean, safe, accessible and fun. See how you can contribute at http://uppernoerecreationcenter.com/wp/donate/


Enjoy your Park!

Chris Faust
Chair, Friends of the Noe Valley Recreation Center
info@noevalleyreccenter.com
www.NoeValleyRecCenter.com


Get citywide activity updates directly from Rec & Park. Sign up at sfrecpark.org/about/publications/